Black Velvet is a quarterly independent rock music magazine. Published and edited by Shari Black Velvet, it features rock and pop-punk - basically any good, catchy music. We're all about good songs.
Black Velvet is produced because of our love of rock music. We write about the bands we love - not those we don't. We want to write about the music that inspires us, that excites us, and that's mostly catchy, infectious rock.
Black Velvet is a non-profit-making zine, run by volunteers, out of a sheer love of music and wanting to promote and spread the word about the bands we love and think deserve support.
Black Velvet is now online so you can read it in full, without leaving your house, and without opening your wallet.
If you're new to Black Velvet and fancy checking out some of the old printed back issues, fear not - you can go to the Back Issues page and stock up!
If you're a band, company, have a product to promote, we have cheap ad rates. A full page in the digital issue is £20. Get in touch. Email editor@blackvelvetmagazine.com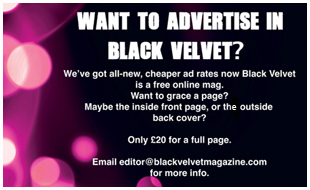 If you think you've got what it takes to contribute to Black Velvet, we'd love to hear from you. We prefer interviewers/reviewers that can also take photos but even if you don't, get in touch. We'd currently love to hear from anyone interested in reviewing albums as we're pretty swamped in both CDs and digital/download albums.
If you're interested in being an interviewer, we prefer those that do in-depth research and work hard to come up with intelligent, thought-provoking, individual questions. We want you to inspire the bands you interview. We want them to think "Wow, what great questions!" rather than asking the same ol', same ol'.
All positions are voluntary. We do this in our spare time as a hobby. We don't make money. But we love what we do.
Email editor@blackvelvetmagazine.com if you're interested in becoming a contributor.
Tell us a bit about yourself. Age, location, fave bands, musical genres, any equipment that you have such as camera, dictaphone etc... If you've written before, send us a sample or two of your work.
We're not really looking for photographers. Although if you're a photographer who also does interviews and reviews, get in touch. We're all about multitasking!

Black Velvet can be found on the below sites. Add us as a friend or follow us!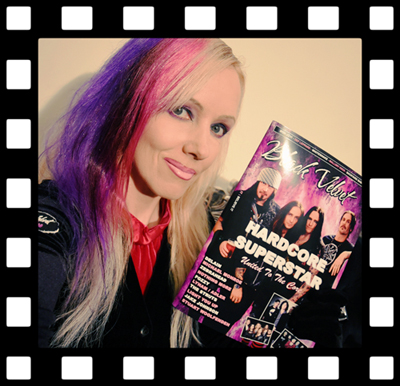 The below 'history of' appeared in issue 40, Black Velvet's 10 year anniversary issue. We're now reached our 20 year anniversary and in doing so have finally embraced the digital age. We're saving trees and you can now read it for free online in its entirety. But have a reminisce about the old times with us below. Back when Black Velvet was first born and how it grew.
One day, in the Spring of 1994, I decided to start work on an all-round printed rock zine. For a year previous I'd produced a fanzine for the LA glam/sleaze band, Alleycat Scratch, a band I'd seen play live during a trip to Hollywood and was impressed by so much that I felt the urge to try and do something to support them and get them a bit more recognition on this side of the pond. When they split up, Black Velvet was the logical next step. And why was it called Black Velvet? It had nothing to do with the Allanah Myles single, it had nothing to do with the alcoholic drink (I'm tea-total)… it was more to do with image, my image, I guess - and the relation that image had with rock 'n' roll. Velvet to me symbolised rock 'n' roll. I remember when I first discovered rock music in my teens, going into Oasis (the rock store/market in Birmingham, not the now trendy shop with the same name) and spotting crushed velvet rock clothes… leggings, skirts, you name it… I bought one item, I bought another. Soon my wardrobe had been converted into a velvet emporium. I became a living, walking velvet clothes horse. This is how it all began.
I loved rock music, I loved writing. It made sense to combine the two. A zine was born - its name, Black Velvet.
Back in the beginning Black Velvet was produced on a cheap wordprocessor. A Canon Starwriter. This was before the internet generation. Before every household owned a computer. I photocopied the first three issues at work on the photocopier in the office. It had a dodgy hand-drawn logo. Oh, and I happen to be the worst artist in the world.
Issue 4 was the first issue I took to a local printers. Back then, Black Velvet was very much a glam rock based zine. Well, glam rock and Bon Jovi. Bon Jovi were my favourite band. The first real rock band I discovered in the mid-80s. To this day they still rock my world. But a lot of the other bands were small and unsigned. It was more an underground zine than one that covered chart-topping rock acts. Some of the bands we featured included Baby Strange, Foxy Roxx and Big Bang Babies.
As time went by and years passed, Black Velvet did strike up relationships with more record and pr companies. This mainly meant that we were introduced to new music. We started receiving CDs to review by non-glam bands, and bands we'd never really checked out before… bands like Joyrider and Posh. One of the good things about doing a zine is that if you're open to listening to new music you can discover great new bands that you otherwise might not have checked out. Our tastes widened.
Issue 12 saw the first glossy cover. It was our first two colour cover as well. The Manics graced issue 12 with a report on their UK tour inside. Black Velvet loves the Manics. Contributors such as Penny Gower, a long-time pal, have been on board for a long, long time, sending in some great reviews and interviews and helping make Black Velvet the zine it is.
Around issue 15 Black Velvet went on sale in Birmingham's Tower Records. We also got in touch with some independent stores, some of which unfortunately are no longer around. Rooster Records in Preston was a particular favourite which has unfortunately long since died.
Issue 23 saw the first ever full colour cover. Again we put the Manics on this one. It followed a trip to USA in 1998 to see the Manics perform intimate shows in California. We saw the band play in San Francisco, San Diego and two shows at LA's Troubadour. Melody Maker, a UK weekly mag at the time, actually commissioned me to write a report and paid me for a glorious photo of Nicky Wire onstage at the Troubadour. Good times.
Since then, there haven't been that many big changes. We've just been refining what Black Velvet is. Reducing the font size so we can fit more in, little things like that. Oh, I did pick up distribution around about issue 32 or 33 - so now Black Velvet is distributed by a leading magazine distribution company. It found its way into a bunch of HMVs and is now in more stores in the USA too.
And here we are at issue 40. It seems quite amazing to think that I've been doing it for ten years (one issue every three months). Ten years is a long time when you think about it. What were you doing ten years ago? Are you still doing it now?


& velvet kisses
Shari Black Velvet
Shari Black Velvet is the editor of Black Velvet. She also reviews, interviews and photographs bands, as well as laying out the zine in its entirety, working on the website, maintaining the social media pages, and more.
Shari Says...
I'm on a quest for the perfect question. Basically, I take everything I do really seriously, no more so than interviewing. I pretty much only interview bands I really love, and when an interview has been scheduled I will research for a long, long, long time in order to come up with good questions. In fact, I don't want to come up with 'good' questions, I want to come up with 'great' questions. The best questions. I'm a perfectionist so something inside of me wants whoever I'm interviewing to think my interview was awesome. I don't want to just do an ok interview. I want to make a mark. I want them to think back afterwards and think 'that Black Velvet interview was a great and interesting interview'. I will read every single interview I can find online that the artist has done previously and try to avoid questions he/she's been asked before. Sometimes reading past interviews can inspire me to think of new questions - for example if they touch on a subject or say something interesting then that might spark an idea for a new question that's not been asked. I'm constantly striving to make my interview questions the best they can be. Sometimes it's hard when the interviewer has been interviewed a thousand times already - but I guess that just makes me work even harder. Being a perfectionist means I'm also very fussy about interviews that contributors do. I want my contributors to have a similar outlook as me - and not any basic, boring questions or questions that have been asked too many times before, and spend a long time researching for their interview. If I take on a new contributor I like to check their questions for the first few interviews, to make sure it's going to be ok.
Concert photography is probably one of my fave things in the whole world. There's a certain buzz with being in a photopit and taking photos of great bands. If I ever go to a concert and am not taking photos I'm bummed out because it's become a part of me (thankfully that rarely happens these days). My main camera is a Nikon D3. When I get home from a show that I've taken photos of I usually feel the urge to try and get some photos on the Black Velvet website as soon as possible. I usually stay up til 4am editing photos to get them online as soon as I can.
I am Black Velvet! It's my whole life. It's the best thing in the world - for me, anyway. I would love it to become a success, although it seems so hard for independent zines to 'make it'. Less people buy printed magazines, and less stores stock them. There are less stores in general. I have a lot of determination and will continue to Black Velvet, and continually improve it, for as long as I can. It's a lot of fun and very enjoyable. I think I would be lost without it. Black Velvet is honest, and real, and all about the good music out there. We don't write about music that bores us, music that hurts our ears, we write about music that inspires us... and that should inspire you too - if you have any taste!