Don't even think of getting into concert promoting if you just want an easy life. Mark Dawson, who's actually a freelance representative and who's promoted shows by the likes of AC/DC, Iron Maiden, Eminem, The White Stripes, The Strokes, festivals such as Download, 'V' and many more, starts work at 8am on the day of a show - and doesn't stop working until about 1am after the show! Prepare to say goodbye to your social life!
So we head for the NEC at the ghastly early hour of 5.45am (well, we had to walk into town, then get a train to Birmingham, and then another train to the NEC). After wandering the wrong way around the NEC (I knew I should have followed my instinct and not the signs), we met up with Mark, who'd already done the initial crew check, signed for keys and set up home in his little office, just down the corridor from the production manager Mike's office. He already has a walkie-talkie, which he will use throughout the day to converse with the production manager and others. The events manager is the first person we meet, who is Mark's point of contact. If he, or anyone else, needs something in relation to the venue and show he will contact the events manager.
Mark is what he describes as the 'centre of a spiderweb'. Not meaning to nick the title from the Sugarcult article from last issue, but 'all roads lead to' Mark. If the production manager needs something from the events manager he will ask Mark - who then asks the events manager. If the band needs something from the events manager, they will ask the production manager who will then ask Mark to ask the events manager. If the crew need something they will ask Mark who asks the events manager. And so on and so forth. If anyone needs contact with the band they will ask Mark who asks the production or tour manager. This means that he's kept busy for most of the day. Everyone comes to Mark if they require anything.
Mark signs for 100 towels (for the band, crew etc). Anymore than 100 costs extra! Then we head out into the hall to check how the crew are getting on with setting up the stage. The lighting is currently being rigged. Mark is asked about the distance the barrier will be from the stage. Then we head back into his office and print out a dressing room rider. The guestlist will come in on an email.
We check the dressing rooms with Evanescence's production manager Mike. Mark tells him which room is good for which band. Amy gets her own room. They're in the opposite corridor to production. There's a cute sign above saying 'Star Dressing Rooms'. The Glitterati get the smallest room since they're the opening band, then Seether, and then Amy and Evanescence get rooms adjoining.
We head back to Mark's office, our main depot for the day, and he prints out a 'promoter's office' sign to put by the door. He has to keep the door open so the crew can come and speak to him at any time. He speaks to the IT department in the venue on his walkie-talkie about the internet connection. He and the production manager need internet connections in order to do any business that they need to, to get emails and so on.
As the day goes on he sorts out guest tickets and passes. Some guests are coming that need car park passes so we walk to one of the carparks and give them the relevant carpark pass for the guests. Fans have already started queuing outside.
There's a local runner who checks with Mark what he needs to go out and buy. This can be food, electrical items, office equipment. The runner has to go to nearby stores, buy the items and bring them back with receipts. Mark photocopies all the receipts.
We have a little snack around midday before The Glitterati arrive and Seether arrive. Evanescence arrive at 2pm. Their soundcheck is scheduled for 3pm although we don't see it as we're working in the office. There's a security briefing which including a run-through of the various passes that will be used during the day.
We head to the box office where Mark gets a cash advance for the tickets sold. The show's not sold out so a few people have bought tickets on the day. Usually there aren't too many sales on the day of a show though.
We find out that there are some metal ramps and pieces of wood by one exit so Mark moves them backstage. We also check that there are no items on the side of the stage that might obscure the view of any of the side seats. The venue has to be clear from anything that might cause injury before doors can be opened. Oxygen and masks are also brought to production - just incase!
Doors are meant to open at 6pm although they're 10 minutes late. At 6.30 we eat in catering.
There are a few guestlist queries so the box office phone down to Mark to check up on these - people whose names have been forgotten from the list etc. There's a meet n' greet with the band so at 7.15 we make our way to the box office area to meet the lucky winners. There should be five sets of twos - making ten fans in total - but only four are there. We wait for 15 minutes but the others don't arrive so we take those that are there backstage. The band are brought out and shake hands with them, sign autographs and have their photos taken with them. As I stand by, John Lecompte (guitarist) goes to shake my hand. I think my words were; 'Er… I'm not a winner!'
I go and check out a few songs of The Glitterati - who sound and look great - and then we both go out again to watch Amy perform 'Broken' with Seether - although the promoter's rep's job doesn't usually entail watching the bands. In fact, while the bands are on stage he's busy going through the day's accounts. He settles up with the tour manager while Evanescence are on stage.
As the show ends I end up making my way home - I have the last train home to catch… although Mark will no doubt be at the venue for a couple more hours while the crew take down the stage and everything is packed away in the trucks ready to drive off down to London for the final of the three UK shows. It's a tough job - but someone's gotta do it.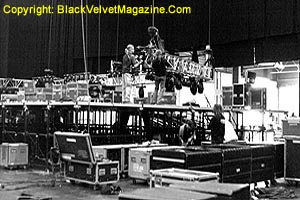 Anyone For Chips?
We asked Mark a few questions to find out more about his job as a promoter's representative. Here's what he had to say...
Mark - On What A Promoter's Representative Actually Is
"Most of the people doing big concerts in this country are companies. What they do is promote shows. They get given a band or they chase a band from a booking agent and negotiate a deal with a booking agent to actually present a concert and the promoter team then find the venue, rents the building, agrees to pay the band a fee, does all the advertising, all the posters, all the leaflets, any kind of marketing and sells the tickets.
"Because the one person who books the show cannot possibly be at the show I come along on the day and I have the full responsibility on behalf of them to make any decisions that I want to do, while they stay at the office and book some more shows, do whatever they need to do. So although I'm not the promoter as in I didn't do the deal, I'm here on the day as the representative of the promoter to see that everything runs smoothly. I have full decision making capability. So Clear Channel for this show would have gone to The Agency, which was the name of the agency in this case, and to the booking agent, which is Geoff Meall.
"Steve and Rod were the two promoters of the show. Steve would have done the deal with Geoff and would have said 'I want to do three shows' or indeed Geoff might have said 'we want to do three shows'. They would have decided between them that there'd be three Evanescence shows that fit in with the European schedule and these are the dates that we are looking at. We're going to do London, the Midlands and somewhere up north', so they've come up with Sheffield, Birmingham and Wembley. And then Steve would have done some preliminary figures; 'I think we're going to sell this many tickets. I think it will cost this to put the show on. I think I will spend this much money on advertising to ensure I achieve this level of sales, I think it's going to cost this much for a crew' and will run through everything it's going to cost. He'll have said 'well if I sell the tickets at £20 and I pay for everything that I think it's going to cost that's going to leave me with x amount of money and out of that money I'm going to give you this amount'. So the agent will then agree to accept or maybe try to push for some more money and they'd do a deal based on that and then the promoter is contracted to pay the band that amount of money irrespective of how many tickets have been sold, so if he only sold two tickets you've still gotta pay the band, still gotta pay the hall, you've still gotta pay the marketing and the crew, so you're taking a risk and the only way you're going to make any money is if you sell more tickets than it costs to put the show on and pay the band.
"I'm freelance so I work for anyone who'll pay me. I work for Clear Channel and Metropolis and a little bit Mean Fiddler. I've always been freelance - it's the best way to do it. I get paid more money!"
On How He Came To Be A Promoter's Representative
"I've been a promoter's rep for ten years and I've been putting gigs on since I've been 16. Properly for a living since '89.
"I lied my way to get into it to a certain degree. When I'd just left school my mates had a band and everyone was the guitar player. I wanted to be in a band but they were 'you can't be in it 'cause we've already got five guitarists and nothing else' so they ended up forming a band and I still wanted to be in it and I couldn't 'cause I couldn't sing or play anything, so I was the manager. But we didn't really know what managers did so we decided that I had to find them some gigs so we all went to a wine bar in Kidderminster and rented the cellar bar. But we didn't even know that you needed a PA until a guy told us the day before the show 'What are you using for a PA?' and we were like 'Eh?? What are you talking about'. We fumbled through and realised that all our mates came and there was a bunch of money left at the end of the night, I was like 'this is a good idea'. So we did a few more shows and then me and the guitar player Dave, we realised that we could also go into Birmingham, and all the bands that we really liked like The Sect, we could say 'here's £20 for the train, do you want to come and play?' so that's what we used to do. That was obviously my start in promoting. I ended up doing a show at the Market Tavern and I got banned from the building. It looked like a guy had been glassed in the face but years later I found that he'd done it himself.
"When that guy left and someone else took over, the word in town was that it was going to be a music venue. So I went along and I said to the guy 'there is no music venue in this town unless I am involved. I am the town's promoter' and he was like 'go on then'. So I ended booking Carter because they were the big indie band at the time. I spent three months pestering the manager and the booking agent who agreed to give me a show. And it just went from there."
On What He Does Besides Work At The Venue On The Day Of The Show
As well as the work on the actual day of the show, Mark does an 'advance' on the show where he gets a rider, interprets it and decides "out of all the things they'd like to achieve which ones I think are achievable. For a show this size "yes, we'll build a 60ft x 40ft stage that will be 6ft high, but no, I'm not going to tell the hall what type of litter clearing equipment they can use. I'll make sure that everything they've designed for the show that they can turn up and they can put it in the building and they can build the show to how they would like to see it. I book the local crew to help carry the gear in off the trucks and to help set it up, the riggers so they can put stuff in the roof. I liase with the venue so they know exactly what's coming in, because otherwise they just won't let you do it. I basically interpret their show and present it in a way that the venue wants to see it. For this one we have the piano on the lift. We had to write a risk assessment for Sheffield because of the moving apparatus. So basically when we arrive at the venue everybody already knows exactly what we're going to do, what's coming in, what it's going to look like, how many security we need for that type of show, what kind of things are going on at front of house, whether they're filming, if we've got the artist jumping into the audience, all of that kind of stuff, so there are no surprises on the day. I talk through what the show's all about with the production manager and then I relay that to every venue we're going to take it to so they know."
On The Best Part Of His Job
"Every day it's like starting a new job and then seeing it right the way through. You get a sense of achievement, although sometimes you don't actually notice that that actually happens. If you do a really important show, like recently I did D12 at Shepherd's Bush Empire. That's a huge band playing this tiny club show. They flew in people from all over the world 'cause it was the worldwide launch for the 'My Band' single. You've got a lot of security required since it's a big act to get him in and out of the building. But when you've done it at the end and it's just gone without a hitch you're just really pleased. It is just an actual sense of achievement and you can't beat that really. I spent a year not doing this and there is no sense of achievement. If there's a problem in the daytime and I fix it, it helps the show to happen, and I know that what I did assisted with us achieving a show. Every day there are new people. Even if you're on tour there are different people at the venue that you're working with, different local crew. So every day is a new challenge. Every day we get a show out of it."
On The Worst Part Of His Job
"Getting up early. Going to gigs at 7 o' clock. Going to Wembley was 7 o' clock and I had to leave my house at 5."
Advice For Anyone Wanting To Get Into This Sort Of Career
"It's really hard to break into what I do. There's only about 25 people that do what I do. Although a lot of people could be capable of doing my job, you need two things; an understanding of bands' requirements which comes from my promoting backgrounds - so I know how to treat a band and not piss them off, and how far I can take it before I have to tell them 'no'! But you've also got to know about the technical stuff. For example, today where we had those sidefills on the floor, if Mike had said we can't fly them, I know that's not true. So you have to have an understanding of the technical side of things just so you know if people are telling the truth, and maybe you can spot something that they didn't see. At this level it should never happen. But at a smaller level, sometimes I've got to go in and say 'that's not safe, you've got to strap the PA down' or 'you're gonna have to move this because it's a sightline or a safety issue or you've just blocked the fire lane. When we come to open the doors at 7 o' clock the venue will want to move all of this stuff, so I have to have an understanding of how that side of things works as well.
"For people to get into it, it's a bit of a closed shop doing what I do, the best way is to become a promoter that has a good knowledge of the technical side of stuff. A lot of people with the technical background think they could do what I do but they don't have the interaction with the venues that I've had over the years. I can speak with people on both levels. I can speak with the tour manager on a band level to keep the band happy but I can also work with the crew, the way that they're used to working and get everything achieved that needs to be achieved. It's like two worlds going on really. I think you need to have an understanding of both. For them to get into it, it would just be a case of making yourself known to the promoters. There's only a handful of promoters; Clear Channel, Metropolis, SJM, Mean Fiddler, Kennedy Street, Marshall Arts, Harvey Goldsmith, 3A… that's about it. There aren't ten big promoters in this country. It's better to go into the industry doing promoting, putting your own nights on into established venues."
On Contact With The Band
"On a small show, a club show, 200 or 300 people, lots, because you're just solely dealing with the band and they can have one crew guy. For a show this size, you really should have no interaction with the band whatsoever. It's just not necessary. I should do it all through their tour manager. There should be no need for the band to ever come into my office or to ever come to me directly with a problem because there's a hierarchy that they should go through. They should speak to their tour manager and then he should come to me. That said, I've done shows, Iron Maiden for example, where the drummer and Steve Harris were very friendly and hanging around in the afternoon and would come and sit in my office for a chat. You get the interaction if the artist wants to come and talk to you but at this level there's no requirement for it. If they're friendly and want to come and chat… Status Quo - Francis used to come and take the piss out of me. He's got a joke every day, so he used to come in, but no real need. Matchbox Twenty I didn't speak to at all. A lot of the arena shows no interrraction whatsoever. But small clubs up to say 2000 capacity which would be the Astoria or Shepherd's Bush Empire or the Forum, Birmingham Academy, once you get to that level, you've still got some interaction with the band."
So you haven't met Evanescence properly on this tour?
"Not properly, no. She sat outside my office but she's got no idea who I am."
On Special Requests
"The Pretenders had 7 vegetarian options on the menu. No meat at all. Chrissie also requested no advertisements inside the venues from McDonalds. That's really hard because if the venue's got a poster from McDonalds that means they've got to deal with the poster company that bought that space off them. You can't go and tell them to take the McDonald's poster down. Well, obviously we try, we've got no right to insist that they take it down just because The Pretenders said. That didn't happen actually to be honest, everywhere we played didn't have any McDonalds posters. It was just like someone had gone out and checked before they booked the show! But she was quite specific.
"Orbital actually took out a special vegetarian chef with them because they felt that the vegetarian choices… you normally get four choice - one's a meat dish, one's a chicken dish, one's fish and one's vegetarian… and you've got the same caterers every day. It's hard… if we're below the level of being able to take a caterer and have meals cooked for you at the venue, it's hard to be on the road. In London it's fine but if you're doing a gig in Doncaster and you're vegan you'd be eating chips every day. So it's a luxury when they can afford to take caterers. The bottom level for being able to take caterers would be a big show at Birmingham Academy. Anything smaller and it's not practical; there's nowhere to put the catering."