No Challenge Too Big
(Interview with Charlie Simpson and Alex Westaway - Taken From Black Velvet 55 - Feb 2008)
By Anne Green
There are few bands with the ambition and resilience of Fightstar. For band members Charlie Simpson, Alex Westaway, Dan Haigh and Omar Abidi the task has remained the same since day one - for Fightstar to produce honest, intense music that is true to their hearts. Since hitting the UK rock scene in early 2005, the experience that comes with touring extensively, changing record labels and further developing their song writing skills has helped Fightstar grow into one of the UK's most respected rock outfits. The band's second full length album release, 'One Day Son, This Will All Be Yours' is perhaps the most poignant example of just how driven and passionate their music truly is. Wasting no time in embarking on a nationwide tour immediately after its release, Black Velvet seized the opportunity to catch up with Charlie and Alex to get the low-down on just what's been going on in the world of Fightstar.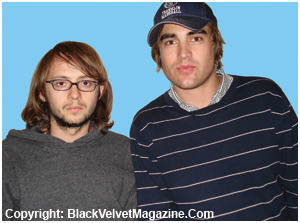 Above: Photo By Anne Green
Above: Mark Owen Photo By Shari Black Velvet
It's immediately apparent when listening to 'One Day Son, This Will All Be Yours' that Fightstar's sound has progressed into harder, edgier territory. "When we wrote the album the main aim was to push the sound we had on 'Grand Unification' and take it further," Charlie explains. "'Grand Unification' had its lighter and darker side. It had a song like 'Grand Unification Pt. 1' against something like 'Open Your Eyes'. We've lways been into that duality of sound, having something really hard next to beautiful harmonic stuff, so I think we wanted to take that further," he concludes.
The band have also never had a problem fitting their wealth of influences into their music. Apparent in their tracks are Deftones-esque riffs as well as more classical elements such as strings or piano. "All of our influences kind of have the same tone so they slot together quite naturally I think," Alex adds. "We're all into the same types of music as well so I think we know what works well."
Matt Wallace, famous for his work with acts such as Faith No More, produced the album and helped the band take their music to the next level. "I think he very much got stuck in with the whole structure of our songs because we never really had a producer come in and strip down the songs and analyse whether each part was working with other parts," Charlie describes. "We did a week of pre-production in the States and he's a song writer by nature so he really helped us get stuck into the songs and analyse each part so that it was as good as it possibly could be. I think the songs really evolved and changed in that week and I think that's largely thanks to him really."
Events in Charlie's personal life lead to the album becoming more personal in terms of lyrical content, which in turn was not only a great outlet for him, but also gave the songs a more sincere, gratifying edge. "I didn't really think about it at the time," Charlie recalls. "It kind of just happened and then I looked back in retrospect what was on the record. It was weird sharing some of those things with the world but I think that it was a therapeutic thing to do anyway and I think that people can relate to it. A lot of the things I'm singing about will relate to so many people because splitting up from a relationship is something that really everyone goes through at some point," he concludes.
Though the first ideas for the album were coming together when the band were still touring and performing songs from their debut album and EP, 'One Day Son, This Will All Be Yours' was largely written afterwards while the band members were spending time apart. "We wrote a few songs for the last album on the road," Alex explains. "We had quite a long period of time on our own to write a lot of material for this second album."
"A lot of it was actually written when we weren't really together," Charlie adds. "We've all set up our own personal studios in our houses now so when we came up with ideas we'd email them over to each other and then we were able to work on the songs in our own space and time. It was really good to have a clear head and really focus on our own parts," he finishes.
Fans who have attended the band's gigs will be aware that Fightstar throw in the odd acoustic song to their set for good measure and diversity. "We tend to like doing acoustic stuff for B-sides mainly," Charlie confesses. "But we always had a request for this song called 'Amethyst' which we released on our first EP. Kids would ask us to play it at all of our shows, so I'm sure one day we'll record more acoustic material."
Fightstar are also no strangers to doing cover versions and feel that they're now well trained in the art of knowing what to look for in a song when considering doing covers. "It depends what line you're going to go down," Charlie explains. "You're either going to change a song or you're going to try and keep it to the original. I think we've had more fun with the ones we've changed. A few of them that we did in the beginning we were told to do them so we did do them."
"That's quite a challenge actually," Alex adds. "With Metallica's 'Leper Messiah' we were actually asked to do that particular song for a Kerrang! covers album."
"It was quite a challenge covering Metallica - that's a dangerous one to touch," Charlie admits. "But it was really fun when we did it and this man on guitar did us proud," he adds, pointing to Alex.
Ultimately the band's change in record labels since those early days has helped them take control of the path they want to follow as artists, leading to a healthy creative atmosphere for all involved. "It's brought us freedom in a way," Charlie explains. "We have much less restriction on what we do this time around, creatively. The label didn't really get involved at all which is how every band wants it to be. So it's very much kind of a 'we're in it together' mentality and we really get the final say on most things. It's a difficult thing to have on a major label but you get it on an independent."
In April 2007 Fightstar chose to make '99', the first track from their second album, available as a free download only single release. "I think that the tide of the record industry is changing how people are kind of approaching the whole physical CD sales because they're depleting so fast," Alex states. "I think I heard that record sales are down by 20% this year already, right across the board. Radiohead have done an album where you can pay however much you think it's worth, so you can just give 1p for the album if you want. I think we'll see more things like that, it's all starting to bend that way. Ash are doing something like that, they're not releasing albums anymore."
"I think that's a shame," Charlie continues. "I love reading the inlays and the thanks in CDs, so I really think that's a shame."
"I think you have to go with the times," Alex adds. "The major labels as it is now are completely dying off because everyone's losing money so something's got to happen."
Fightstar's reasons for making their single available as a free download track were different, however. "The reason that we did a free download was because we wanted to give something back to our fans," Charlie admits. "So we let them help themselves to the first track off the new album because they'd waited so long for it and had been so loyal to us. So I think it's going that way but it'll be a real shame if CDs are phased out because I love having them. But I guess music is changing rapidly."
"You'll always be able to buy them I think," Alex says hopefully. "But it'll just be more for collectors."
On the subject of releases that collectors will relish, Fightstar have an interesting concept in mind for a possible future EP which will feature a track with Alex on lead vocals. The experience to sing and record the song was one that he relished. "I enjoyed it," he states. "Basically we had to write some B-sides and we didn't really have any songs that were there to be recorded so we kind of went back into the stuff we were writing individually for the album, the ideas and stuff we had. So one of the tracks is my idea and then one of them is Charlie's.
"They're pretty much individually written by each of us," Charlie confirms.
"And that's something we don't normally do." Alex adds.
"It's quite cool though," Charlie continues. "We're toying with the idea of releasing it as an EP actually so that we basically release those individual songs as a single."
"It's going to be a little bit different from the usual Fightstar stuff," Alex reveals. "We didn't really have time to interfere with each other's songs because we only had two days to record the B-sides. We just had to get them down in what form they were in."
As well as being musical, the members of Fightstar have a couple of very creative side projects and hobbies which they enjoy devoting time to when they can. Alex co-owns a t-shirt company called 'Vs' with fellow band member Dan. "It's not really a company it's just a hobby really, we don't market it," Alex admits. "We have a website and sell things if people stumble across it. It's just a bit of a laugh."
Alex and Dan take filmmaking more seriously, however. "We've got a production company called 'Horsie In The Hedge' which we did 'Palahniuk's Laughter' and 'Paint Your Target' with and a few other videos for the band," he explains. "In our spare time we're all budding film makers. We're currently making a short film which has actually been going a year now. We're only about a quarter of the way through so it's quite an ambitious project."
Alex hopes that eventually they can turn their work into a very special Fightstar DVD which will really interest the fans of the band. "Basically we're building it up so that in a few years time we'll have a huge amount of footage that we're going to try and edit into some kind of documentary which tells the proper story of the band."
"It's going to be a full on two hour special," Charlie adds.
"Inspired by the film 'DiG!' a little bit," Alex reveals.
Like many musicians, Fightstar have never imagined doing anything else other than music with their lives. "We're all musical," Alex explains. "We all had it in our blood I think when we were growing up. For all of us I think it was the one thing we wanted to do the most."
"I've been doing music my whole life, from a point when I was about five," Charlie admits. "As soon as I was introduced to music I was into music. You get hooked. You get sucked in and it sucks your life in and budding musicians all share that same dream."
"We're lucky we can do it but if we weren't doing it we'd still be doing music in all of our spare time," Alex concludes.
Given the success that the band have had and the critical acclaim much of the new material has gained them, how do Fightstar feel they have evolved since forming? "We can play a little bit better!" Alex jokes.
"I think our song craft has grown a lot and our ambition has grown an enormous lot in regard to what kind of music we're trying to make now," Charlie elaborates. "We've got the ethic that there is no challenge too big."
And judging from the quality of the tracks on 'One Day Son, This Will All Be Yours', Charlie is true to his word. Both Charlie and Alex hope that fans will enjoy Fightstar's music as much as they enjoy creating it. "I hope people get what we get from the album really," Alex responds. "Our aim is to write music that we want to write and that appeals to us. We hope that can transfer and that people can kind of get the feeling that we get when we were writing it really."
"When I listen to one of my favourite bands the feeling I get is such happiness and if someone listens to our album and is feeling that, then we've achieved our goal," Charlie concludes.

Visit www.fightstarmusic.com for more info.