Black Velvet is a non-profit-making printed rock zine that concentrates on promoting the bands it loves. Black Velvet is a quarterly independent zine with issues hitting the streets every February, May, August and November.
If you're a band that is interested in submitting material for review, the best way is to check out recent issues to decide whether your band will fit in.
PLEASE NOTE: WE UNFORTUNATELY DON'T HAVE THE TIME TO REPLY TO ALL EMAILS AND WE ALSO DON'T GIVE THE ADDRESS TO SEND A CD INTO VIA EMAIL. THE ADDRESS IS IN THE PRINTED MAG. IF YOU WANT US TO REVIEW YOUR PRODUCT, PLEASE FIND THE ADDRESS IN THE PRINTED MAG. IF YOU DON'T HAVE ONE, YOU CAN ORDER IT ONLINE FROM ONE OF THE ONLINE STOCKISTS. THEY ARE LINKED AT www.blackvelvetmagazine.com/shops.htm

We feature both signed and unsigned bands. We review albums, singles, demos, videos, DVDs and books.
Local bands - Please do not hand deliver your product to our address. Please mail all items by post. Anything hand delivered will automatically not be reviewed. We wouldn't come around to your house unannounced so please dont come to Black Velvet HQ unannounced. Thanks.
We do not review MP3s or vinyl
Please do not send mp3s to our email address. We do not review digital content - ONLY CDs.
You don't need to send us free promo goodies when you send the CDs. It is the music that counts. We don't smoke so don't want free plastic lighters. We don't eat chocolate so don't want free chocolate (well, we may let you off if it's vegan, as we're vegan, so don't eat milk chocolate or anything with animal products in). We do like velvet though... so... ok, go on then, send us some nice velvet clothes... or money to buy some. ;-) This won't guarantee a good review though. The only thing that will guarantee a good review is some good music.
Unfortunately we also do not have the time to check out any links you send us. We're always super-busy so the best way to get our attention is to just send us a CD or demo by regular mail with press pack. We've always got a pile of CDs here and they get priority. All CDs are listened to by the editor. If approved they will be sent out to a contributor for review. If possible include a biog.
NB: Not all material is reviewed. As stated above, we prefer to concentrate on the bands we love rather than those we don't. If we don't like your playing ability or your style, we may not review you. Space is tight and we prefer to promote the bands we love, the bands that inspire us and make us sit up and think 'wow'.
Black Velvet is packed with reviews of signed and unsigned bands from all over the world. Every issue has 40 bulging pages. Every issue we run out of space.
For Those Who Have Been - Or May Be - Reviewed
With the invention of the internet, it seems that some bands want to publish our reviews on their site. Obviously this is only natural, but the more this happens, the more it may hurt the longevity of Black Velvet. You see, if people can read it on the net for free, they're not likely to send off for the zine, are they? We need readers to cover our printing costs.
If you want to quote a review that's been in Black Velvet, if possible please only print a couple of lines from the review - at least until the issue is sold out. Once an issue is sold out we don't mind. You can put our reviews, interviews on your site - but please do so only when the issue is sold out. If you do put something up on a site, please can you let us know in advance. It's always nice to know where our work is appearing. Please link to BlackVelvetMagazine.Com too.
Our Black Velvet Magazine Advertising Rates are as follows:
Outside Glossy Back Cover - £80
Inside Colour A4 Full page - 303mm (height) x 216mm (width) - £60 / $100
Inside Colour Half page - 151.5mm (height) x 216mm (width) or 303mm (height) x 108mm (width) - £30 / $50
Inside Colour Quarter Page - 151.5mm (height) x 108mm (width) - £20 / $30

UK advertisers, make cheques payable to Black Velvet or send paypal. US and foreign advertisers, send securely sealed and hidden cash or paypal only.
Send paypal payment to shari@blackvelvetmagazine.com
Issues hit the streets every Feb, May, Aug and Nov. Ads and payment should get to us before the below deadlines:
Feb Issue - Ads & payment deadline = Dec 20th
May Issue - Ad & payment deadline = March 20th
August Issue - Ad & payment deadline = June 20th
November Issue - Ad & payment deadline = September 20th

Advertisers names & links will also appear on the Black Velvet website in the contents section when that particular issue is on sale (ie. for three months), for no extra charge.
Please email to check that there is space available. Ad space is on a first come first served basis and the nearer to the deadline you enquire the less chance of the space you want being available. Although the deadlines are listed above, if the space has gone prior to those dates your ad will not be accepted. The sooner you reserve the space the better.
Your ad may appear on a page like this (below left: a half page ad on page 2 of an interview, below right: 4 quarter page ads on the inside back cover):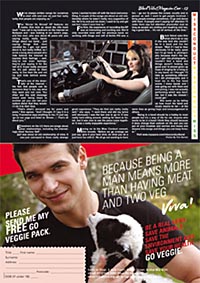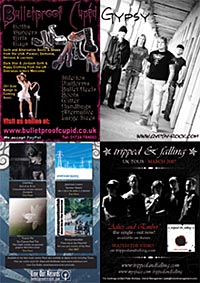 Social Networking
Black Velvet can be found on the below sites. Add us to your friends or follow us!





Contributing To Black Velvet
If you are in the UK and interested in writing for Black Velvet, email editor@blackvelvetmagazine.com with some info about yourself and a couple of sample reviews. We are not always in need of writers but will keep your email for future reference if there is no current need.
We currently do not need any photographers - although if you are an interviewer and reviewer as well as a photographer then get in touch. We especially like people who can write lots of CD reviews or research lots for in-depth interviews.
Let us know the following:
- how old you are
- where you live
- whether you have any experience, ie. have contributed to a zine before or not
- whether you take photos as well as writing reviews, doing interviews etc.
- what your fave bands are and what types of rock music you like (ie. hard rock, pop-punk, emo, glam etc).
Please note: You must be able to spell well! If you are a bad speller please do not apply.
Contributing to Black Velvet is a voluntary position. Black Velvet is a non-profit-making zine so we can't afford to pay you - although if you review CDs you get to keep the CDs, if we ask you to review a show, we will get you into the show for free etc. We also have dayjobs and work on Black Velvet in our spare time.
Please only contact us if you are a hard worker and do not take forever to write reviews. We are only looking for contributors that can get reviews or interviews to us in a decent time-frame. Most contributors start on CD reviews, so we can assess your work before moving on to gig reviews, interviews or anything else.
We tend to prefer contributors that do not contribute to a lot of other sites/zines as we like contributors who really believe in Black Velvet and who aren't going to be busy doing lots of other stuff. We also like contributors who are able to promote Black Velvet as well - whether it be handing out flyers at shows or telling your friends on facebook/twitter how rad the zine is!
We're a bit picky when it comes to interviewers as we want our interviews to be the best. We avoid asking the boring, run-of-the-mill questions that bands get asked all the time and try and think of questions that they haven't been asked before and that may make them think (imagine if you were in a successful band and got asked the same questions every day... yawn!). If you are interested in doing interviews for us, please send us a few sample interview questions, so that we can see you've put thought and originality into the questions. We like interviewers that will be professional and do a lot of research on the band, and spend time working to make an interview be the best it can be.
We do not accept placements/work experience/have interns at Black Velvet.