Black
Black Velvet Silicone Wristbands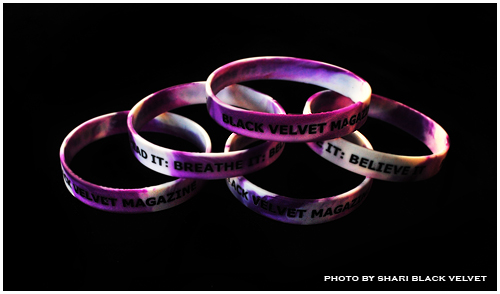 Each wristband says 'BLACK VELVET MAGAZINE READ IT: BREATHE IT: BELIEVE IT'
50p of each sale will be sent to Birch Hill Dog Rescue.
Birch Hill Dog Rescue is an independant rescue based in South Shropshire. They rescue dogs of all breeds and offer them a second chance of a loving new life.
Click below to buy a wristband with Paypal. Pricing is for 1 wristband.
UK: £2 including p&p
Europe: £2.50 including p&p
USA: £3.50 including p&p
ALSO, CHECK OUT THE SAVE A SCREAM AGAINST ALL ANIMAL CRUELTY WRISTBANDS AT
www.saveascream.com/merchandise.htm
* If you do not have Paypal, send a UK cheque/postal order payable to Black Velvet or securely sealed cash to:
Outside of the UK, Paypal or cash only. Europe send 5 Euro. USA/Rest of the world $6.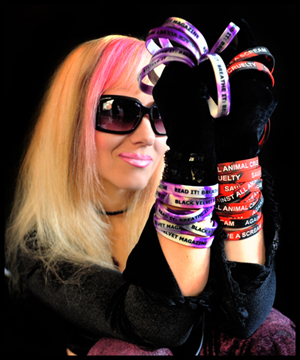 Above: Shari Black Velvet with a bunch of Black Velvet & Save A Scream wristbands
Black Velvet also has some merchandise at Spreadshirt.co.uk.
Click the image to go to the site.