OCTANE OK
One band that's caught our eye (and ears) in a live setting, as well as on disc, is Octane Ok. We've had the pleasure of catching them live numerous times over the past couple of years, and after every show we're always eager for the next. Although for the past couple of months they've taken time away from the road to work on their debut album. At the time of this interview they were two weeks away from flying to the States to record their album with Jason Perry in Texas. We're hoping that once it's done they'll get back on tour where they really belong, and own the stage. In the meantime, we decided to quiz them on their touring experiences and make them June 2012's 'tourtured souls'. Watch our video interview below.
By Shari Black Velvet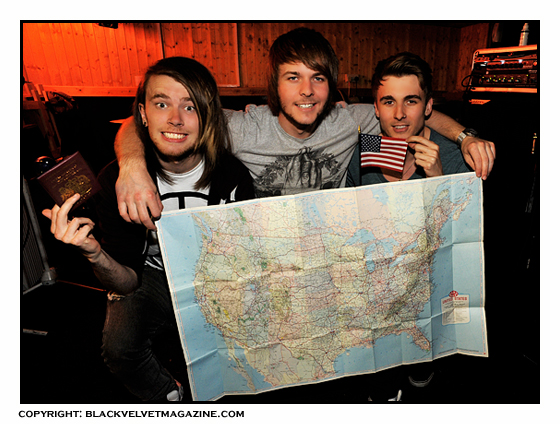 Above (L-R): Mikey Rainsford, Paul Tandy & Drew Comley ready for the US - with passport, map and American flag!
Visit www.facebook.com/octaneok for more info.
And if you missed it, order Black Velvet 71, with Octane Ok on the cover, at www.blackvelvetmagazine.com/backissues.htm