UK
The following UK shops stock the current issue of Black Velvet:
Birmingham Newspoint newsagents (in the Bullring)
Birmingham Ballroom (www.birmingham-ballroom.com)
Cardiff Spillers (www.spillersrecords.co.uk)
Derby Viva Hate (www.vivahateonline.co.uk)
Dudley ST Records
Leeds Jumbo Records (www.jumborecords.co.uk)
Redditch Train Station Newsagents
Southampton October Books (www.octoberbooks.org)
If there's a shop near you that doesn't stock Black Velvet, ask them to!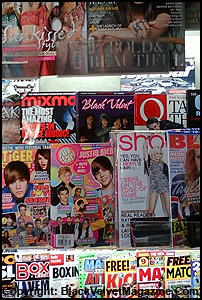 Above: Black Velvet on sale in Birmingham Newspoint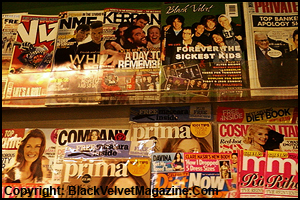 Above: Black Velvet on sale in Redditch Train Station Newsagents
If you know of a store or other stockist that is stocking Black Velvet and is not on listed on this page, please email us and let us know.
We're always looking for new stores to stock Black Velvet. If you are a store or know a store that either stocks zines or might stock them, please email editor@blackvelvetmagazine.com - or ask them to start stocking it and to contact us.
Also, if you'd like to sell Black Velvet at gigs, to friends or anyone else, email editor@blackvelvetmagazine.com for more info.
If Black Velvet is not on sale near you, you can order it directly from Black Velvet - or via one of the online stores who will mail it out to you.