TEMPLETON PEK
Tales Of The Unexpected
(An Interview With Templeton Pek - Taken From Black Velvet Issue 58 - November 2008)
By Shari Black Velvet
'Three friends one belief' is a motto that Templeton Pek have lived by for a long time. Neal Mitchell, Kevin Green and Simon Barford are the three friends that make up Templeton Pek, a Birmingham-based band that now have debut album 'No Association' under their belts and who have played such shows as Give It A Name and Taste of Chaos as well as being chosen to support the likes of No Use For A Name and Mindless Self Indulgence. Black Velvet has caught the band in action on many an occasion, been most impressed, and figured it was about time we found out more.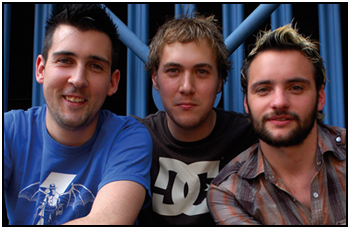 Above: Kev Green, Si Barford & Neal Mitchell (Templeton Pek)
"Music for us is pretty much a way of life," drummer Si begins, once we're all seated at the Flapper & Firkin, a venue we once saw the band support Madina Lake in. "Writing and playing and recording and getting records out there, it's awesome. I don't know what we'd do if it wasn't for music."
"We basically write the songs and music that we like – and if people like it, it's a bonus basically," says vocalist Neal. "I don't think you can actually describe the adrenaline rush you get when you're playing live – especially when you're playing to 2000-odd people like on the last tour. Coming offstage… you find it hard to sleep that night. It's like 'did we just do that?'"
The three-piece have been together for quite a while. Neal and bassist Kev grew up together, adding Si to the equation in 2005. When their previous drummer couldn't make a local gig, Si took over the stool. "It wasn't like I was joining the band or auditioning," says Si when thinking back to that first ever show together. "I said I'd play the songs in the afternoon in the studio and then do the gig in the evening. It was a laugh really. It wasn't fantastic but we got through the gig and they offered me the job after the gig." The members laugh that Si had previously been a jazz drummer, doing open handed drumming, however he quickly learned the art of real rock drumming.
The band all live together, infact they were housemates before Si even joined the band. "We were mates to start off with, and even without the band we'd be mates without it," Si tells Black Velvet. "You see a lot of bands who you play with that don't get on and you're like 'how can you actually do this?' because you spend so much time together, you've got to at least have something in common," adds Neal. "I think it helps that there are only three of us. I have no idea how bands who are five-piece get along. It must be an absolute nightmare."
The belief the band share is that of believing what they're doing, but not being bothered if others don't like it. "We try not to follow a trend and just do what we do," reveals Kev, while Neal continues, "We pretty much exist outside scenes and stuff which helps us. We don't try and follow trends, we just do what we do and if people seem to catch onto it they catch onto it, if they don't they don't. We carry on regardless."
It looks like this ethos is working out well. Just the other week Black Velvet spotted a comment on the Templeton Pek MySpace page that read, ''I haven't turned off your album all week. I'm in love with it'. The band think it's quite bizarre to hear comments like this though, and don't let it go to their heads.
"It's cool and it's nice if people like it but we don't really think about it too much, to be honest," says Neal. "We never thought we'd get the chance to have an album out," says the modest Kev.
But now the band do have an album out, on Small Town Records, and you can find it in Zavvi, HMV and other retail stores.
"It's great having a label because you've got a product out there, but you've also got to get a distributor to put it into shops and the manager of the shops to want to put it in the shops, and that's a whole other thing," Si tells us when asked about getting the CD into stores.
"Once you get to this stage you find a whole load of problems and stuff to overcome that you didn't know existed. You've got the world of distribution and NPR and agents, and that's when it all becomes kind of serious," adds Neal.
"Managing the band ourselves we get to see all that as well," injects Kev. "Our label, Pete and Small Town have done really well for us compared to what we had before. They're pushing as much we are. Even as far as gigs. There aren't many labels that try and book you shows. They're really behind us," continues Si.
The band, who are most inspired by previous touring mates No Use Of A Name for continuing as long as they have, have learned quite a bit over the course of their career so far. They joke that they've learned that Si can't drink jagermeister, before the drummer more seriously adds, "I've found touring around you're better off keeping yourself to yourself, keeping quiet, not causing any aggro basically. Promoters and people say to us 'it's great that you're like that, you're no trouble, we know you're going to turn up on time'. It sounds really boring to say but it helps you get further on."
Neal adds, "I've always found it helps being polite. A lot of bands are arrogant, we've always been polite. You don't burn any bridges, you don't know who's watching you or who you're speaking to or who they'll end up being. I think that whole ethos has helped us out."
"We've had a few guys try and push us over the edge," says Si, before Kev succinctly adds, "We just smile and walk away."
The trio, who all have music related dayjobs (Si works in sound effects in music for computer games, Kev is a sound engineer at Birmingham Academy while Neal does voice overs at Kerrang! Radio) hope to be able to tour loads, to be able to make performing music their full-time career and just be comfortable enough to do so. Si tells us, "We've had more knockbacks in a period of time than some people can take – but then next week there's loads of good news. There are lots of ups and downs."
Neal reiterates that being in a band means expecting the unexpected. "Everything can seem to be rock bottom and then next week you get offered a tour with a massive band out of the blue. It's like 'can you come on tour tomorrow?' kind of thing. It's pretty unpredictable."
"As sad as it is, you try not to get excited about the stuff that's coming up because you know there's a slight chance it might get cancelled, anything could happen. The night before when we know we've got the gig, that's when I get excited," rounds off Si.
Templeton Pek – check them out at www.myspace.com/templetonpek - and get excited.