THE ROCKET SUMMER
By Shari Black Velvet
While Bryce Avary and his musical project The Rocket Summer were in the UK in May 2010, Black Velvet had the privilege of interviewing him for Black Velvet. We'd only recently discovered this amazing talent despite the fact that he's been around a while - and has in fact released four albums, as well as various EPs. I know, I know, we suck for being slow! But we'll hopefully make up for that from now on. So before a show at Birmingham Academy 2 we sat down with Bryce and asked him a bunch of questions which we then made into an article to go in issue 65 of the printed Black Velvet. The interview graces two pages - and you need to order a copy! We talked for quite a while - and asked him everything from what mistakes he's made to the fears he has. At one point he commented, "You're asking me so many intense questions, I like it though!" Well, Black Velvet DOES like to go in-depth, and find out a little bit more than your average interviewer, and when your subject is as interesting as Bryce there's so much to ask and uncover.
Since we couldn't fit everything into the printed Black Velvet (space was tight), we figured we'd put a couple of the bits that didn't get in, on here, so you can read them now. Below Bryce tells us about his four albums - and what comes to mind when he thinks of each of his releases so far...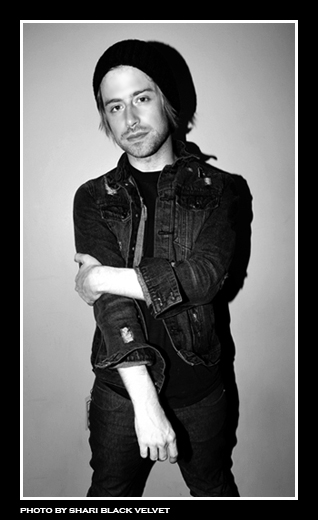 'Calendar Days'
Bryce Avary: I think of innocence. I think of youth, I think of indie rock music. That was a really exciting time in my life, also a really scary time. A lot of great times came from that time of just being a kid, I graduated high school – I'd written some of those songs in high school and a lot of them I wrote when I graduated and I was just working in Starbucks, watching all my friends go to college and I was just gambling and believing in myself. I think it's cool, I love that record, I think every record has its own little thing about it that's special, but that one's the cute guy, it's like my cute little first born!

'Hello, Good Friend'
BA: 'Hello, Good Friend', I was delving into spirituality a little more on that record. I was putting a magnifying glass on all the emotions that I had in my life. It's a very jovial record but there are also moments on it that are darker, like 'Tell Me Something Good' – but even the darker songs, the way I chose to live is that I believe, like I said, by learning from past experiences and the promises that I have that things will turn out the way they're supposed to. But that doesn't mean that life doesn't get really hard. That record's really exciting because… it's the second album, it's like 'woah, this is actually sort of happening', even though we didn't blow up or anything on 'Calendar Days'. We still haven't blown up! But it's like 'Woah, ok, this is real, this is actually happening'. I think I was living in my first apartment then. I just remember writing that album in my little house that I was living in in Texas, kind of in the ghetto. The stop sign in my road had two bullet holes in it! And I had to call the police once because there was a fight that broke out at four in the morning, this gang… it was pretty weird. I remember a lot of good times and some rough times. That was kind of a
hard record to make for reasons I won't go into, but I remember that was a really stressful record to make – to the point where I just got up and left one day and just went home… And it was done! But I figured, 'ok, it's good enough'. It was just a weird working environment.

'Do You Feel'
BA: 'Do You Feel' was probably the most exciting album I've ever made because I'd signed to a major label. I went out and it was my first time to make a record where I wasn't sleeping on the floor of the studio or in someone's kitchen and I was actually staying in an apartment. I was recording in real studios that Led Zeppelin recorded in. There was so much optimism in the air. And I went out to write a hit record – not that I ever not try to write hit records, because I always try to do that – but that one specifically, I knew the pressure that my label had put on me. They didn't really tell me verbatim 'you have to do this' but I knew when I signed to that label what they wanted and that they wanted this to be a big deal and so I kinda felt like I wrote sort of a hit record that then, by the fate of how things work, people kind of ended up leaving my record label just a couple of months after it came out and then I just got sort of quietly forgotten about…

'Of Men And Angels'
BA: And then that leads me to 'Of Men And Angels', which was a much different approach because I was very excited about 'Of Men And Angels'. I was just wanting to make a record that only moved people. Of course I was going to try to write songs that would be big, massive hits, but not at all that being any kind of main goal whatsoever. I just wanted to write a record that was the most substance-filled record that I'd written that people would just grip on to, and be like 'Woah, that's the record that really affected me or seriously brought me out of a rough time in my life', and just found out a lot of things about myself or about God. It's a really spiritual album. I've never really made such a spiritual album even though that's a main part of my life. It just happened to be what I was writing about at the time.

BA: It's interesting. Everybody seems to have their favourite Rocket Summer album. Not everybody – by everybody I mean my fans.
Black Velvet also told Bryce that we think The Rocket Summer ought to support Bon Jovi on tour (especially as they are on the same record label, Island Def Jam)...

BA: I would love to support Bon Jovi! We've tried… my friends Dashboard just supported them and I was like 'how was it?'. We did a whole run with the Goo Goo Dolls and they did a whole tour with Bon Jovi too. So everybody's touring with him that I know. I feel like that would be, in a weird way, a really great tour for us. It's obviously so different from what we normally do. The only reason we normally do what we do is because that's just sort of what happened. I've never really viewed The Rocket Summer as strictly a scene kind of band that was only for teenagers and Warped Tour and stuff like that. We just happened to start touring with bands like that and that's where our fanbase started growing and I couldn't be more thankful for our fans. I don't care what kind of person you are, I just love that we have fans, it's awesome. But at the same time it's been really cool this year to kind of branch out a little bit and go out on tour with the Goo Goo Dolls. And we went out with OneRepublic – which was really weird when we met OneRepublic because those guys were huge fans of 'Calendar Days'. In fact one of them is in our 'Calendar Days' DVD. He jumped up onstage and sang one of our songs and it's on our DVD and I had no idea until we went on tour with them, he was like 'that was me!' But yeah, I'd love to tour with Bon Jovi, that would be rad.
Make sure you get issue 65 of Black Velvet to read the full interview with Bryce Avary/The Rocket Summer - where we talked about lots, lots more. It's well worth reading. You can order it at www.blackvelvetmagazine.com/backissues.htm
Visit www.therocketsummer.com for more info on The Rocket Summer