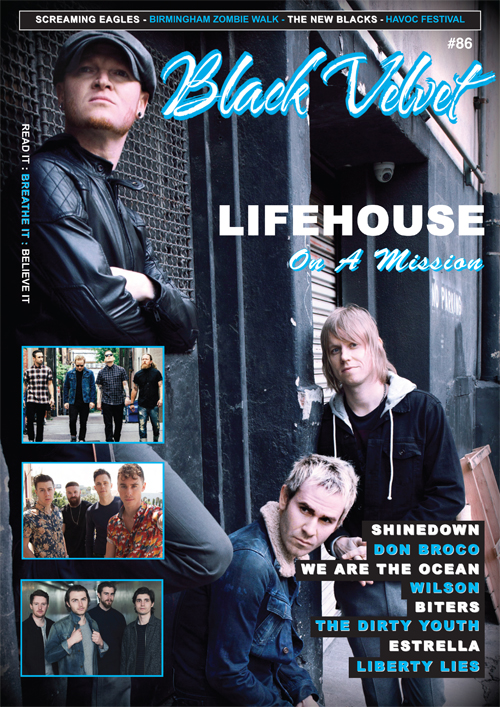 Issue 86 of Black Velvet is now available to read.
Click the above cover to read the digital issue in full for free.
Enjoy!
Black Velvet 86 includes:

Interviews with Lifehouse, Shinedown, Don Broco, We Are The Ocean, Wilson, BITERS, The Dirty Youth, Estrella and Liberty Lies.

Concert reviews of Havoc Festival (featuring Fearless Vampire Killers), Don Broco and The New Blacks.

Birmingham Zombie Walk 2015.

Column By Ryan Lilly (Screaming Eagles)

Album, Single and EP reviews of Lifehouse, Bon Jovi, Heartbreak Remedy, Jupiter Falls, Stone Angels, Set It Off, Blacklist Union, Elasea, Shinedown, Backyard Babies, Don Broco, BITERS, Screaming Eagles, City Of Thieves, Motion City Soundtrack, Eat The Gun, Calm For The Restless, Osukaru, Whitemoor and more.

Fansite Focus, BV CV, Supersonic Future Superstars (featuring Kodiak Jack and The Endeavour) and more.
Subscribe to Black Velvet on YouTube at www.youtube.com/blackvelvetmagazine
Below are a few of our interview clips on video.
Watch more on the Interviews page