BLACK VELVET ISSUE 89 ONLINE NOW!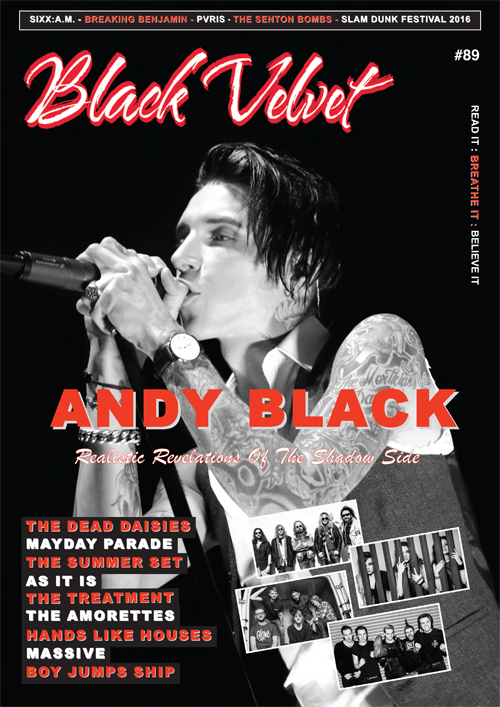 Issue 89 of Black Velvet is now available to read.
Click the above cover to read the digital issue in full for free.
Enjoy!
Black Velvet 89 includes:

Interviews with Andy Black, The Dead Daisies, Mayday Parade, The Summer Set, The Treatment, The Amorettes, As It Is, Hands Like Houses, Massive & Boy Jumps Ship.

Concert reviews of Andy Black, Sixx:A.M., Breaking Benjamin, PVRIS, Hardcore Superstar, The Summer Set, The Treatment, Hands Like Houses, As It Is & Boy Jumps Ship.

Slam Dunk Midlands 2016 Festival Report.

Album, Single and EP reviews of The Dead Daisies, Skillet, Bun E. Carlos, Sinnergod, The Amorettes, Delain, Waterparks, Boy Jumps Ship, Goo Goo Dolls, The Wildhearts, Still Square, Fallen To Flux, Blackrain, Jolly Joker, The Flux Machine, Matty James, Skarlett Riot, Tremonti, Blaqk Audio, Patriot Rebel, Black Aces, Hammerjack and more.

Column by Joey Class of The Senton Bombs.

Book Reviews, Fansite Focus, BV CV and more.
Subscribe to Black Velvet on YouTube at www.youtube.com/blackvelvetmagazine
Below are a few of our interview clips on video.
Watch more on the Interviews page