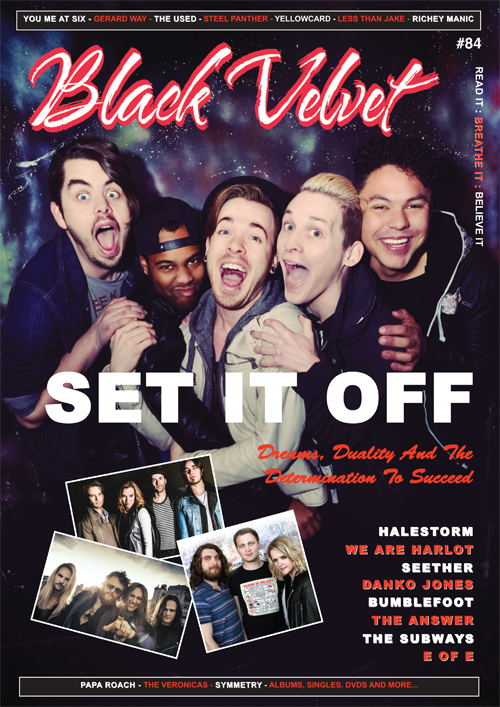 Issue 84 of Black Velvet is now available to read.
Click the above cover to read the digital issue in full for free.
Enjoy!
Black Velvet 84 includes:

Interviews with Set It Off, Halestorm, We Are Harlot, Seether, Danko Jones, Bumblefoot, The Answer, The Subways and EofE.

Concert reviews of You Me At Six/All Time Low, Steel Panther, Papa Roach, Gerard Way, The Used, Yellowcard/Less Than Jake and Halestorm.

Column by Michael Campbell of Symmetry.

The Disappearance of Richey Manic - Our Thoughts.

Album, Single and EP reviews of The Subways, Skarlett Riot, Danko Jones, Bonafide, Light You Up, The King Lot, Halestorm, Thunder, Bumblefoot, The Veronicas, Hardcore Superstar, Gun, The Answer, Alien Ant Farm, We Are Harlot, The Amsterdam Red Light District, Uli Jon Roth, The Val and more.

Fansite Focus, BV CV, Supersonic Future Superstars and more.
Subscribe to Black Velvet on YouTube at www.youtube.com/blackvelvetmagazine
Below are a few of our interview clips on video.
Watch more on the Interviews page