BLACK VELVET ISSUE 95 ONLINE NOW!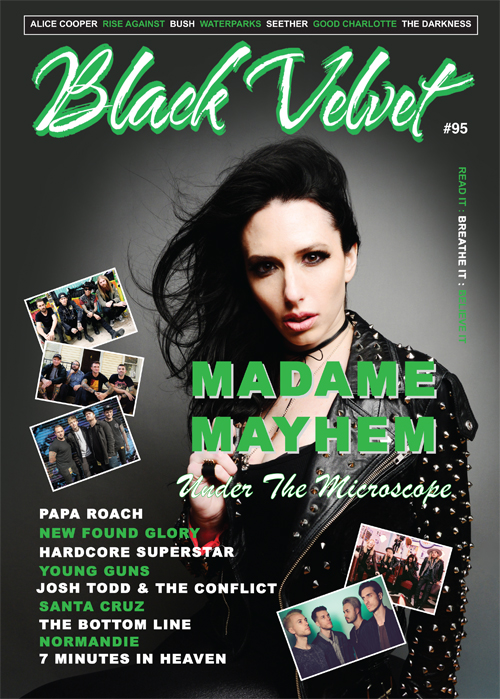 Issue 95 of Black Velvet is online now.
Click the above cover to read the digital issue in full for free.
Enjoy!
Black Velvet 95 includes:

Interviews with Madame Mayhem, Papa Roach, New Found Glory, Young Guns, Hardcore Superstar, Josh Todd & The Conflict, Santa Cruz, The Bottom Line, Normandie and 7 Minutes In Heaven.

Concert reviews of Jaret Reddick, Bush, Papa Roach, Young Guns, Waterparks, Good Charlotte, Fozzy, Seether, Alice Cooper, The Rocket Summer, Rise Against, The New Roses, Alice Cooper, Nothing More, The Darkness, Extreme and New Found Glory.

Column by Share Ross (Twin Flames Radio).

Album and EP reviews of Madame Mayhem, Green Day, Pretty Boy Floyd, Santa Cruz, Trucker Diablo, Samarkind, The Darkness, Evanescence, Josh Todd & The Conflict, Crimson Star, Lullaby, Palaye Royale, The Run Up, and more.

Supersonic Future Superstars featuring Fortify.

Fansite Focus, BV CV, Eatin' Ain't Cheatin'...
Subscribe to Black Velvet on YouTube at www.youtube.com/blackvelvetmagazine
Below are a few of our interview clips on video.
Watch more on the Interviews page
Want to contribute to Black Velvet? Click here for more information.