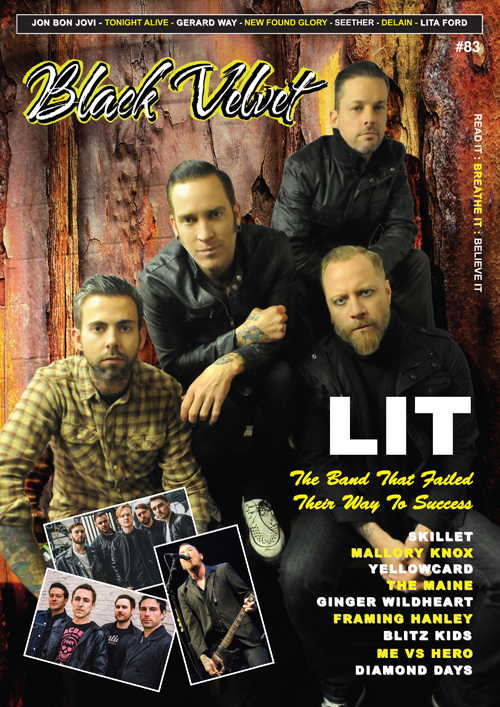 Issue 83 of Black Velvet is now available to read.
Click the above cover to read the digital issue in full for free.
Enjoy!
Black Velvet 83 includes:

Interviews with Lit, Skillet, Mallory Knox, Yellowcard, The Maine, Ginger Wildheart, Framing Hanley, Blitz Kids, Me Vs Hero, Diamond Days.

Concert reviews of Jon Bon Jovi, Gerard Way, Tonight Alive, New Found Glory, Delain, Seether, Warrant/Lita Ford, Hillbilly Herald, Down 'n' Outz, Lit, Mallory Knox, Skillet, Framing Hanley & Me Vs Hero.

Column by Chris Smith of One Last Run.

Competition to win 3 bags of Freedom Mallows, a Freedom Mallow cotton carrier, a signed copy of Diamond Days' EP 'We've Come A Long Way', a copy of Chinaski (book by Frances Vick) and a copy of Looking for Johnny (DVD).

Album, Single and EP reviews of Mallory Knox, Skillet, Starset, Angels and Airwaves, Set It Off, Fearless Vampire Killers, The Quireboys, Justin Furstenfeld, StoneWire, This Legend, One Last Run, Fire At Dawn, Such Gold, Devil's Train, Dirt Box Disco, Suzerain and more.

Fansite Focus, BV CV, Supersonic Future Superstars and more.
Subscribe to Black Velvet on YouTube at www.youtube.com/blackvelvetmagazine
Below are a few of our interview clips on video.
Watch more on the Interviews page